Charts 4 PHP Team has always emphasized on improving the customer experience by making charts more flexible and easy to use. Here are the amazingly new July's update:
1. Google-Spreadsheet with Charts 4 PHP framework :
You can now connect google-spreadsheet and draw all types of charts from the spreadsheet columns . Follow the article below to know how to connect google spreadsheet with Charts 4 PHP framework:
2. KPI's Supported:
A Key Performance Indicator (KPI) is a measurable value that demonstrates how effectively a company is achieving key business objectives. Organizations use KPIs at multiple levels to evaluate their success at reaching targets.You can now add KPI boxes using Charts4PHP dashboard framework.

3. Added Line-Bar chart
For better displaying and using the charts , we have added a combination of line-bar chart.

4. New Dashboard Templates
We have added Chats4PHP pre-integrated Dashboard Templates to quick-start building your corporate business dashboard in no time. It contains usage demos of how to use static & database driven charts in dashboard templates. These Bootstrap templates support variety of features like theme customization, colors and graphical elements.
Follow the article below to see which dashboards templates are added:
Free Version:
1. SQLite Database Included
Since many user's requested to verify the usage of charts using databases. We have allowed  SQLite Database to verfiy the charts according to their needs.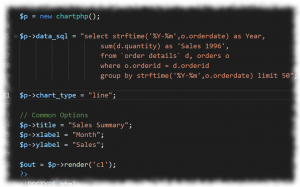 2. Line & Area Chart supported:
Free version now offers line and area chart.

Whats Next:
To download latest free version (with limited features), please visit our Download page.
To buy full functional paid version with technical support, please visit our Pricing page.
For existing paid customers who want to renew/upgrade, please visit Upgrade page.
We are sorry that this post was not useful for you!
Let us improve this post!
Tell us how we can improve this post?